Our Toscana
Technical Assistance for Your Home in Tuscany
Our Mission
We are a team of passionate professionals (geometras, architects and engineers) with unsurpassed knowledge and experience who offer you Technical & Contractual Services. We will guarantee a painless purchase and oversee the restoration of your dream home in Tuscany! We can provide you with property surveys, purchase assistance, plans and permits and undertake all kinds of restoration projects and swimming pools.
Our Approach
We are qualified, licenced and insured professionals with mountains of experience in purchasing and restoring properties throughout Tuscany. Our role is totally independent of estate agents and contractors meaning we represent you and you only! We manage risk and avoid unpleasant surprises. We guarantee accountability and tailored assistance fot that special home and make your experience in Tuscany a unique, trouble-free undertaking.
Our Services
We do comprehensive property surveys leaving absolutely no stone unturned. The due diligence/purchase assistance package will closely assist you throughout every step of the purchase process keeping you informed and involved. After completion, we prepare plans and permits based on your needs and desires. Our restorations use "state-of-the-art" project management techniques and the best artigians to make the whole experience simply amazing!
Before you commit to buying a property, you need to have a clear understanding of the strengths and weaknesses and how much problems may cost you in terms of time, money and stress. Read more…
That moment has finally arrived! You've found the perfect house after months of searching. You are incredibly anxious as you need to move rapidly yet with caution and want to get the best possible price. Read more…
We will listen very carefully to your needs and desires and provide a full comprehensive "one-stop" planning package that will eliminate the infamous red tape that frustrates so many overseas buyers. Read more…
Restorations projects in a foreign country with totally alien planning laws, building regulations and building methods can be quite a daunting task. Throw in a foreign language with an absent home owner and things get very frustrating! Read more…
So you are ready to turn your dream home in Tuscany into an oasis in paradise? Endless fun in the sun with your family and friends. Sounds great, doesn't it? Our Toscana will make this dream come through with our bespoke swimming pools.
Read more…
Our Toscana Presentation
At Our Toscana we will make your dream home in Tuscany come true. For more information contact us!
All videos
Our Toscana Manager
Our Toscana is managed by David Collins in association with a network of a other professionals from a variety of disciplines. David has lived and worked in Tuscany for 20 years. He graduated in Civil Engineering from University College, Cork Ireland and has covered a number of construction related posts in the UK, Germany and Italy. He has accumulated a significant experience in design, project management and contract administration roles and has fully recognized professional engineer status in Italy.
Make buying and restoring that special dream home in Tuscany a great experience with our unsurpassed knowledge, optimism and passion.
Buying or restoring in a foreign country with a different mentality, unfamiliar laws and complex regulations means that you need somebody that you can trust with unquestionable integrity.
We share out knowledge and learn every day striving for continuous improvement … perfection will never happen!
HAVE A LOOK AT OUR BOOK
BUYING & RESTORING IN TUSCANY
This book is a real gem with lots of fantastic information and is written by somebody with mountains of experience in Tuscany. An easy read that takes a refreshing look at a wide range of themes from the disappointing house-hunting adventures undertaken by thousands of foreign pilgrims to restoring a Tuscan roof, re-pointing a stone facade or installing a dream pool. The buying process in Italy is thoroughly examined with updates on recent laws and regulations. This book is an absolute must for those of you thinking about moving to Tuscany or Italy. It is a no-nonsense, pragmatic book that looks at the strengths and weaknesses of Tuscany and is packed with valuable tips, advice, Italian terms and lots of updated costs. An absolute must-read before you depart on the Italian journey!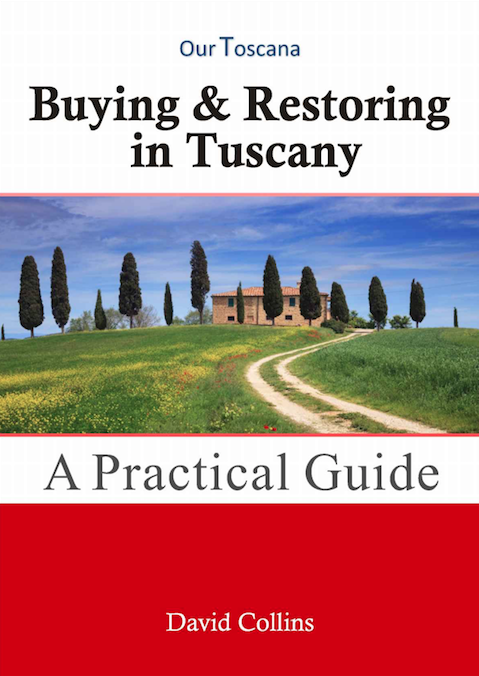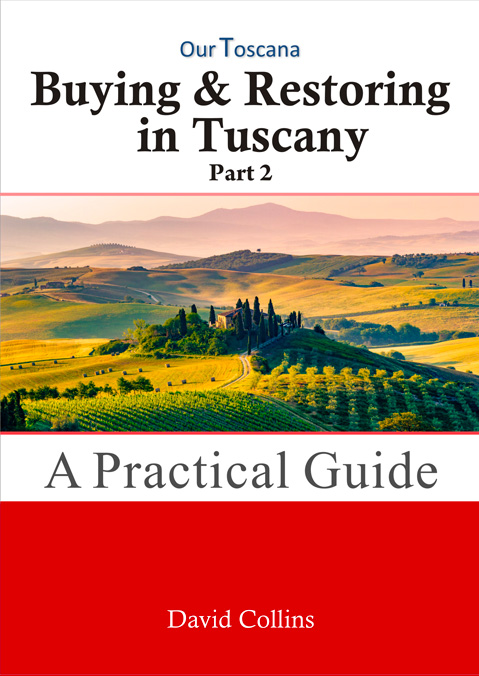 HAVE A LOOK AT OUR LATEST BOOK
BUYING & RESTORING IN TUSCANY Part 2
The second volume of this popular guide provides the reader with priceless information about searching for, buying and restoring a property in Tuscany. It is packed with valuable tips and precious advice difficult to find elsewhere and is based on practical day-to-day experience of the author.
David shows us how to conduct a negotiation the "Italian way" or to quickly recognize a dwelling in disguise. The role and responsibility of the Italian notary is unveiled for those of us from the Anglo-Saxon world. We learn about the essential steps in managing a restoration project whilst revealing several tips. He explains how earthquakes can affect older properties and unravels the complex laws in a simple and plain way for everyone to understand. The section on swimming pools makes you want to immediately go for a refreshing dip. The chapter on arches is both fascinating and insightful or the way he throws a sense of humour on malfunctioning septic tanks and suggestions for fixes. David "the philosopher" reflects on why people move to Tuscany in the first place and how some end up living a full and wholesome life whilst others live in a bubble. Many essential taxation matters are revealed and the book wraps up with a very useful checklist of questions that everybody must have when viewing a property. David has managed to provide us with a wealth of information deriving from his unsurpassed experience of working and living in Tuscany and is an absolute must for any home hunters' collection.
Our International Clients