Pools
So you are ready to turn your dream home in Tuscany into an oasis in paradise? Endless fun in the sun with your family and friends. Sounds great, doesn't it?
A swimming pool is an engineering feat in many ways. Able to support the weight of thousands of litres of water while withstanding the onslaught of sun, chemicals, tremors and more, a swimming pool can be as difficult to design and build as any home. If built properly a pool can last for decades with little more than routine maintenance. If a pool is poorly constructed, it can be a headache of repeated repairs, interruptions and lost swimming time. That's why getting the right person to build your pool is so important. It's the best way to ensure you'll receive a quality design and careful construction at a fair price.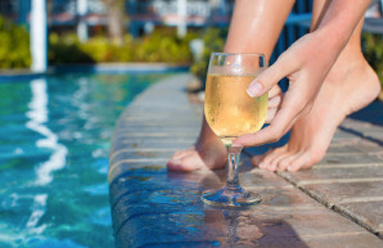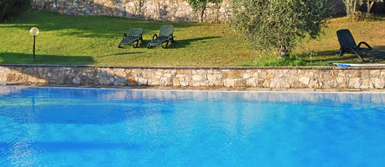 Locating the Pool
When locating a pool we need to try and add that "wow" factor to the entire property. The pool needs to have the best view with a generous lounging area. It should be east-west in direction to optimize exposure to sun. It ought be close to the house yet not too close as pools can be a potential eyesore for 8 months of the year! A small summer kitchen close by with basic cooking facilities by can turn the bathing area into a dining heaven. Trees are nice to have nearby for shade, but they can become a constant source of dirt if too close.
Swimming Pool Types
Above ground pools are the least expensive types that you can simply purchase "off the shelf". They are the summer-fun answer for those who don't want to make the larger commitment of an in-ground pool. They are easy to install and you can be hosting a pool party after a couple of days!
In-ground pools are much more expensive than their above-ground cousins, however they are also a permanent home improvement. They add aesthetic, as well as intrinsic, value to your home. And when it comes to selling or renting your house in Tuscany, an in-ground pool is generally much more appealing and puts your property on the "radar screen".
Before you embark on an in-ground pool solution, you need to think about how your family will use it. Do they like to swim lengths? Perhaps a rectangular design is best for you. Or do you have a combination of swimmers and splashers? Maybe an L-shaped pool is the answer so everyone is happy? Do you want to enhance a magnificent view? Then an infinity pool might be the right choice. Designing with such needs in mind is essential so that your entire family will be happy for years to come.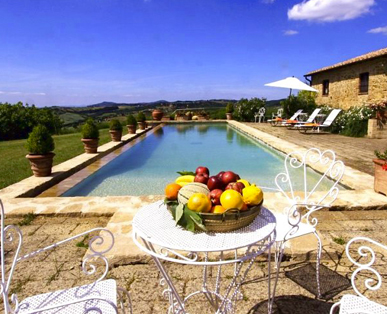 Getting Permits
Before applying for permits, you will need the services of a geologist to ensure stability of the pool location. Sometimes pools can tilt, crack or slip over time if the soil conditions are not assessed carefully. Most of Tuscany either has an environmental or hydro-geological restriction that tend to limit the amount of paving around the pool. There are also practical considerations to adhere to such as water supply, drainage, access to plot, privacy, safety, exposure to wind and sun and vicinity of surrounding trees. There may also be restrictions regarding minimum distances from roads, boundaries, electric lines or adjacent dwellings. Now let's have a brief look at each of the construction steps for building a concrete pool:
Access
Suitable access to the pool location can considerably impact the construction costs. If you can use large excavators, trucks and ready-mix concrete this may reduce the costs significantly. Properties that enjoy breathtaking views are usually found on the side of hills with small country road access. This means small machinery and inflated costs.
Excavation works
The excavated area will be larger than the finished dimensions of the pool to allow builders to work safely. Removing soil from site will sometimes require a laboratory analysis certificate to show that it is free from contaminants. For rock or shale a surcharge is applicable as rock breaking equipment will be required. For a 12m x 6m x 1.5m pool, budget anything between 2500euro and 5000euro depending on ease of access.
Concreting Works
Once the excavation is complete, a thin layer of lean concrete or blinding (magrone) is poured to provide us with a clean and even surface where we can start doing the slab reinforcing (armatura). The reinforcing has a lower and upper layer within the slab or base of the pool (platea in cemento armato) which is usually 25cm in thickness. At this point the pool specialist will come on site to insert the pool drains and piping for the water circulation before we pour. Next the steel reinforcing for the walls (armatura dei muri) is put in place and once again the pool specialist returns to install the skimmers, inlets and illumination. These walls are usually about 20cm in thickness. The shell of the pool is now complete! The concrete shell for a 12m x 6m x 1.5m pool deep will cost approximately 16,000euro.
Drainage and Backfill
Proper drainage (drenaggio) will add years of extra life onto your pool. Drainage stops water logging around the outside perimeter of the pool which will slowly degrade the reinforced concrete. We always apply a drainage membrane to the walls of the pool (membrana bugnata), place a drainage pipe (tubo drenante) at the base of the excavation and backfill with graded hardcore (pietrisco 4cm/7cm) and a geotextile membrane (tessuto non tessuto) which stops clogging over time. For our 12m x 6m x 1.5m pool you should budget approximately 3000euro to 4000euro.
Decking and Coping
The decking that surrounds your pool can be stone, terracotta, wood or one of many other materials. Around the pool border, the paving can simply continue up to the edge or we can employ a purpose made coping. This coping overhangs by about 3cm and is raised slightly as a dirt barrier. Whatever material you chose, ensure that it is non-slip, frost proof and won't burn the feet off you on hot days!
Shell Finish
Water will tend to magnify any bumps or hollows when a PVC liner is applied. Concrete walls and floors will have to be made good. The most common way of finishing a pool is using a commercially available PVC liner. This is a quick and reliable solution and will not create problems should the pool shell develop small cracks following tremors or differential settlement. For those of you who want a special finish, tiling or resins are an alternative option that can give us endless bespoke solutions.
Pumps, Filters & Water Treatment
Filters employed nowadays are usually sand filters which is simply a fibreglass container filled with specially graded sand that catches the dirt and debris as the water flow through it. Pumps should be able to effectively circulate pool water at least every 3 to 6 hours depending on use. It's important to get the balance right with pump and filter dimensions as over sizing the can reduce filter effectiveness, causes more wear and tear on plumbing and dramatically increases electrical pumping costs. Dispose of your pool water properly in accordance with the planning application. Remember dumping pool water without taking precautionary steps to reduce chlorine to allowable values is illegal. You should budget about 12,000euro for a pump, filter and circulation system together with a PVC liner of a 12m x 6m x 1.5m.
Electrics and Illumination Wiring will be run from your home's distribution board to the dedicated electric panel in the plant room. Electric wiring and all grounding should meet CEI national standards. Over recent years, in-pool lighting has migrated from halogen to LED dramatically due to reduced the running costs and longer life.
Start Up
When your pool is complete and filled to the proper level, the pool specialist will start your pool equipment. He will walk you through the use of the plant giving you detailed explanations and demonstration of the back wash and water treating procedures. You are now ready to dive into your new pool!